Payroll tax cut extended, but battle resumes after break
The House and Senate approved Friday a two-month extension of the payroll-tax cut, setting up a sequel to the three-month-long battle over one of President Obama's top legislative priorities.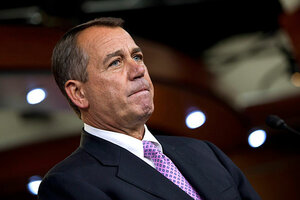 Evan Vucci/AP
The House and Senate convened today in a short session with a big purpose – to extend a payroll tax cut, extend unemployment insurance, and avoid a pay cut for doctors treating Medicare patients.
With members back at home or on the road, Congress passed a compromise plan by unanimous consent – that is, without a vote.
The agreement extends expiring provisions through February. Both the House and Senate also committed to beginning negotiations for a full year extension when Congress reconvenes in January.
On Friday, Senate majority leader Harry Reid announced the appointment of conferees to these negotiations – a move he had refused to make, until the House agreed to adopt the Senate's two-month compromise.
"I hope this Congress has had a very good learning experience, especially those who are newer to this body," said Senator Reid, in a reference to tea party-backed House GOP freshmen, who opposed the Senate bill. "Everything we do around here does not have to wind up in a fight."
"Legislation is the art of compromise, consensus building, not trying to push your way through on issues that you don't have the support of the American people," he added.
After taking a battering by everyone from the White House to the Wall Street Journal's editorial board, House Speaker John Boehner gave up his bid to force the Senate to the bargaining table to negotiate a deal before the Jan. 1 deadline for expiring provisions.
---