Obama plan to boost teen employment could be an uphill battle
The national unemployment rate has fallen to 8.6 percent, but the level of teen joblessness has remained high. So, on Thursday, President Obama encouraged the private sector to step up their hiring of young people.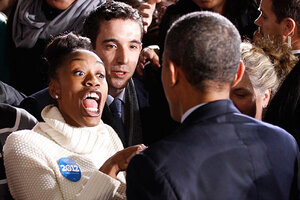 Kevin Lamarque/REUTERS
Uncle Sam used to reach into his deep pockets to pay for programs to keep teens off the streets in the summer and instead get some work experience.
But, with federal budget cutting the norm, those days are over.
So, on Thursday, the White House kicked off its efforts to encourage the private sector to step up their hiring of young people.
Called the "Summer Jobs +" initiative, the White House urged corporations, nonprofits, and government to hire at least 250,000 teens this summer. So far the Obama administration says it has received commitments from such companies as AT&T, Bank of America, and CVS/Caremark to hire 180,000 youthful workers this summer. Included in that effort is hiring promised by such federal agencies at the Department of Agriculture, Department of Interior, and Department of Health and Human Services.
Even with those commitments, people involved in youth employment say jobs are likely to be tough to get this summer. States and cities continue to face budget challenges. Although companies are hiring, they are still skittish about the direction of the economy. And there is only so much federal agencies can do with Congress talking about the need for austerity.
---