Recess appointee Richard Cordray ready to 'prove' worth of consumer bureau (+Video)
Amid controversy over his recess appointment, Richard Cordray outlines next tasks for the watchdog Consumer Financial Protection Bureau. The new CFPB director said Thursday businesses such as payday lenders will come under scrutiny.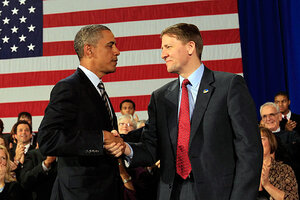 Kevin Lamarque/Reuters
No matter how Richard Cordray was appointed, he believes Americans will support him and the federal government's Consumer Financial Protection Bureau (CFPB) when they begin to see the fruits of its labor.
"The most important thing we can do as a bureau is keep our nose to the grindstone and keep doing our work," Mr. Cordray, CFPB director and former head of its enforcement division, said Thursday during a public appearance in Washington. "As we attack this problem, as we offer a solution or an improvement for that problem, we will prove our own case both to the people who represent the public and the public at large."
President Obama, using a recess appointment to get around Senate objections, installed Cordray atop the CFPB on Wednesday. Republican senators had blocked the appointment since Mr. Obama nominated Cordray, a former Ohio attorney general, for the post in July. Republicans have balked at confirming anyone for the CFPB's top job, citing concerns about lack of congressional oversight of the bureau's operations and funding.
Obama's recess appointment drew fire from many conservatives, who said the Senate was not in fact in recess on Wednesday. House Speaker John Boehner called Obama's move an "extraordinary and entirely unprecedented power grab."
---