Did Haley Barbour overlook Mississippi constitution before mass pardon? (+video)
Outgoing Mississippi Gov. Haley Barbour says the state parole board had already approved release of 90 percent of the some 200 convicts he pardoned. But a judge blocked 21 of the pardons, citing the state's constitution.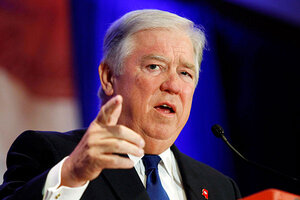 Molly Riley/REUTERS
A Mississippi judge has temporarily blocked 21 of over 200 executive pardons and medical releases given this week by outgoing Republican Gov. Haley Barbour, raising further questions about whether the former presidential aspirant used his pardon powers injudiciously.
Circuit Judge Tomie Green temporarily blocked the pardons of 21 current and former inmates after a complaint by Attorney General Jim Hood, who was visibly angered by what he considered Governor Barbour's violation of the state constitution. Under the law, those seeking pardons have to publish their intentions in local newspapers, and Mr. Hood said that, in at least some of the cases, Barbour granted the reprieves even though notices had not been published.
In a statement about the decision, Barbour, a largely popular governor who left office Tuesday because of a term limit law, said the state parole board had already approved release of 90 percent of those pardoned, that the majority of them had already been released, and that his main goal was to restore voting and even hunting rights for Mississippians who had paid their price to society.
But the sheer number of the pardons, and the fact that four men released over the weekend were convicted murderers, raised ire, confusion, and even fear in Mississippi, where both Republicans and Democrats questioned Barbour's last act.
"The governor undermined both the verdict of the jury and the decision of the sentencing judge apparently because he thought that these were kind of good people. That's shocking to me, that because you think they're rehabilitated you're going to undo jury verdicts," says Jimmy Gurule, a former federal prosecutor who is now a law professor at the University of Notre Dame, in South Bend, Ind.
---