House to reject debt limit increase. Why that doesn't really matter.
The House is voting Wednesday on a resolution disapproving of a request by President Obama to raise the national debt limit by $1.2 trillion. But the issue actually was resolved last summer.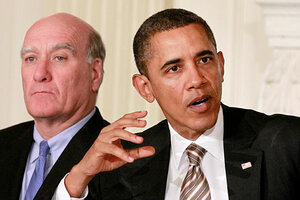 Haraz N. Ghanbari/AP
The House returns this week to a vote on a resolution to reject President Obama's request to raise the national debt limit, now $15.24 trillion, by $1.2 trillion – the final element of a debt ceiling agreement that Congress approved on Aug. 1.
At first glance, Wednesday's vote would seem to reopen the most toxic debate of this Congress, which took the nation to the brink of the first-ever default on the national debt last summer.
But, by design, Wednesday's vote will be more theatrical than practical. Even if the House votes, as expected, to reject the president's request, the measure still has to pass the Democrat-controlled Senate and avoid a presidential veto – both highly unlikely outcomes. The special treatment of the issue was part of the political compromise last summer that prevented default while allowing Mr. Obama to raise the debt limit and allowed Republicans to disapprove.
"This is all preordained," says Stan Collender, a longtime federal budget analyst with Qorvis Communications in Washington. "The debt ceiling increase had to happen, and this allows Republicans to vote against it."
In effect, Washington has built itself a buffer heading into the 2012 elections. The big partisan clashes on spending and the debt limits were settled in Congress last year. The federal government is now funded until Oct. 1, the start of a new fiscal year. With this week's expected hike in the debt limit, the federal government should have enough room for borrowing through the November elections.
---