Obama puts Keystone pipeline on hold, decries 'rushed and arbitrary' deadline
Speaker Boehner accuses Obama of 'selling out American jobs for politics,' but Keystone pipeline operator TransCanada says it will submit plans for a rerouted project later this year.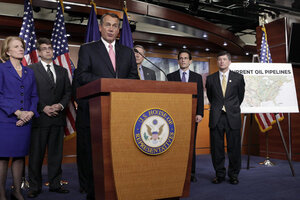 Yuri Gripas/Reuters
President Obama announced Wednesday he is putting the controversial Keystone XL oil pipeline expansion project on hold, saying a decision can't be made by the February deadline imposed by Congress. While environmental groups cheered the news, the setback is temporary and the pipeline operator says it will resubmit plans to have the pipeline running in 2014.
The decision to deny the company its permit, issued through the US State Department, is considered a political risk by the president with Republican leaders saying that preventing the pipeline – proposed to be the largest of its kind in North American – is harmful to the national interest by limiting energy security and preventing job creation.
The Obama administration was first expected to rule on the permit, sought by operator TransCanada of Alberta, Canada, by late December. However, the administration sought a one-year extension, saying a more thorough environmental assessment was needed, including further exploration of alternate routes.
Republicans in Congress, in return for their support for an extension of the payroll tax holiday, forced the new Feb. 21 deadline, a date that Mr. Obama on Wednesday called "rushed and arbitrary."
His statement stressed the decision was not a ruling on the merits of the pipeline, but on the action of Congress, which he said, "prevented the State Department from gathering the information necessary to approve the project and protect the American people."
---