Keystone XL oil pipeline ensnared in political gamesmanship
Republicans tried to force Obama's hand on the permit to construct the Keystone XL oil pipeline, and now he's forced theirs. The fight may not be over, signaling that energy will be a 2012 campaign issue.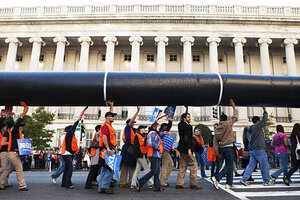 Joshua Roberts/Reuters/File
No doubt about it, the proposed 1,700-mile-long Keystone XL oil pipeline has become a political ping-pong ball, with congressional Republicans and President Obama batting it back and forth with rising election-year ferocity.
In denying a construction permit for the controversial energy project on Wednesday, well ahead of the Feb. 21 deadline for announcing his decision, Mr. Obama caught his congressional adversaries off guard. The Obama campaign then immediately released its first broadcast ad of the 2012 campaign, accusing "secretive oil billionaires" of spreading misinformation about the administration's record on clean energy.
Obama's move, and the previous one by Congress to graft the pipeline decision onto end-of-year legislation to extend the payroll tax cut for American workers for 60 days, indicates that the nation's energy future is likely to be a significant campaign issue in Election 2012.
The president signaled that his pipeline decision included some tit for tat. "This announcement is not a judgment on the merits of the pipeline but the arbitrary nature of a [congressional] deadline that prevented the State Department from gathering the information necessary to approve the project and protect the American people," Obama said.
GOP congressional leaders, of course, slammed the decision. Senate minority leader Mitch McConnell of Kentucky said the move "shows a fundamental disconnect with job creation in this country." House Speaker John Boehner said: "This is not the end of the fight."
---