Mitch Daniels State of the Union rebuttal makes GOP wonder: 'What if?'
Mitch Daniels was seen as a potential challenger to President Obama until he opted out of running last year. After his rebuttal of Obama's State of the Union address Tuesday, some GOP elites are openly longing for a Mitch Daniels candidacy.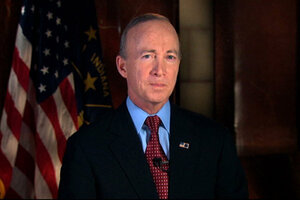 APTN/AP
Mitch Daniels, Republican presidential nominee?
Once upon a time, that was a key Republican Party strategy to win back the White House from President Obama. The two-term Indiana governor decided early last year to not seek the party's nomination, but the wishful thinking has only deepened after Mr. Daniels' concise and reasoned GOP rebuttal Tuesday night to Mr. Obama's State of the Union address.
"I could hear sighs all over the country from Republicans [about] what might have been," conservative columnist Charles Krauthammer told Fox News late Tuesday. "That was one of the best speeches I've heard … and I think it was one of the best presentations of the conservative idea against the larger government of Obama."
Such accolades have not yet been heaped upon the two front-runners in the Republican presidential race: former House speaker Newt Gingrich and former Massachusetts Gov. Mitt Romney.
---