Why Jerry Brown is standing firm on shaky California high-speed rail plan
Another report critical of California's $100-billion high-speed rail project – the second this month – has not shaken Gov. Jerry Brown's faith in the plan. He has his eyes on his legacy, some say.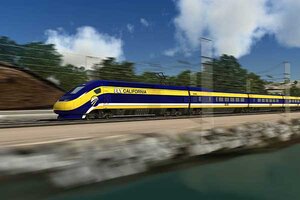 California High Speed Rail Authority/AP/File
A new report by the state auditor concludes that California's proposed $98.5 billion bullet train is "increasingly risky" and has inadequate oversight, adding to a growing pile of formal assessments that raise major concerns about the project.
Three weeks ago, an independent panel required by law to review the plans said the bullet train poses "an immense financial risk." And in November, California's independent Legislative Analyst's Office said parts of the plan don't comply with the 2008 ballot measure that authorized state funding for the project.
Undeterred, Gov. Jerry Brown is pressing ahead, claiming that the train will create jobs, accommodate future population growth, and aid the environment.
In his state-of-the-state address Jan. 15, he said boldly: "During the 1930s, the Central Valley Water Project was called a 'fantastic dream' that 'will not work.' The Master Plan for the Interstate Highway System in 1939 was derided as 'New Deal jitterbug economics.' In 1966, then-Mayor Johnson of Berkeley called [the Bay Area Rapid Transit system] a 'billion dollar potential fiasco.' Similarly, the Panama Canal was for years thought to be impractical and [British Prime Minister] Benjamin Disraeli himself said of the Suez Canal: 'totally impossible to be carried out.' "
"The critics were wrong then and they're wrong now," he concluded.
---