Deep-water oil drilling: why Obama is OK with angering left and right
Neither the oil industry nor environmentalists are pleased with President Obama's new deep-water oil drilling plan. But in an election year, that might be a safe position politically.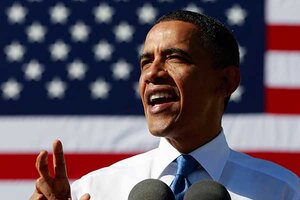 Haraz N. Ghanbari/AP
OK, baby – you can drill. Just be careful.
President Obama Thursday followed up on his State of the Union promise to expand deep-ocean oil drilling and exploration on the nation's outer continental shelf by unveiling a big oil lease sale in the Gulf of Mexico.
The move marks yet another step toward full-scale resumption of leasing following the abrupt halt that followed the 2010 Deepwater Horizon blowout that killed 11 men and spilled an estimated 4.9 million barrels (205 million gallons) of oil into the Gulf. But it satisfied neither the oil industry nor environmentalists.
The June lease sale is not "new" at all, but one devised by the Bush administration and later put on hold, industry sources say. They call for the president to return to the offshore drilling plan he endorsed just months before the Gulf oil spill, which would open new waters off Virginia, North and South Carolina, and Florida to drilling.
Environmentalists criticize the administration for reopening deep-water drilling even though the technical problems that led to the Gulf oil spill have not been fixed.
But as gasoline prices creep upward this spring, the president's move could be intended to show independent voters he isn't under the thumb of environmentalists or the oil industry. Following his rejection of the Keystone XL pipeline project, Thursday's move could deflect election-year criticism that he is harming the nation's economy by not vigorously pursing oil development at home.
---