Indiana becomes first Rust-Belt 'right to work' state. Will others follow?
Laws that curtail union clout have faced heated opposition in Wisconsin and Ohio, making passage of 'right to work' laws in other industrial states a difficult political proposition.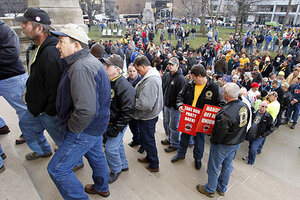 Michael Conroy/AP
After a protracted battle, Indiana Wednesday elected to make union dues optional for workers in union jobs. It's the first state in more than 10 years to adopt a so-called right-to-work law and the first state ever in the industrial Midwest to go that route.
What this means for Indiana is hotly debated. The law's backers expect it to attract more businesses and jobs to the state and its detractors warn of lower wages for all workers.
The new law takes effect amid a climate of contention around union issues in other Midwestern states – with mixed outcomes. In Wisconsin, a Republican takeover of state government in 2010 led to a new law restricting collective bargaining for most public employees.
But in Ohio, voters last fall turned back a similar measure that had been approved by that state's GOP-led lawmakers. Governors of both states, along with Gov. Rick Snyder of Michigan, have said they don't plan on moving toward right-to-work legislation.
Despite disavowals from these governors, it remains to be seen if other states might follow Indiana's lead, says Martin Malin, director of the Institute for Law and the Workplace at Kent College of Law in Chicago. "It's almost impossible to read the political momentum," because, he says, "as union membership declines the political calculation changes."
---