Obama plan to lower mortgage payments could help, but how much?
President Obama unveiled his plan to cut mortgage payments for 'responsible homeowners' in trouble. But the housing crisis is so massive that no one program can solve it, experts say.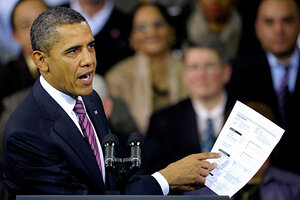 Cliff Owen/AP
President Obama fleshed out a new mortgage-relief plan Wednesday, saying the steps he outlines would "help millions of responsible homeowners" and the US economy.
The proposal aims to bring lower monthly mortgage payments to as many borrowers as possible.
A key element: Where past refinancing initiatives have focused especially on Americans with so-called "conforming" loans backed by Fannie Mae or Freddie Mac, Mr. Obama is hoping to extend similar relief to loans underwritten by private lenders.
Millions of households hold these loans, and a refinance at today's low interest rates can bring savings of $300 per month for typical families. More than one-third of them have balances larger than the home's current value, which has made traditional refinancing impossible.
With the housing market still depressed, and overall consumer spirits still dampened by America's debt overhang, many economists support the pursuit of new policies to help reduce foreclosures and stabilize home values.
"It would make a difference" for the housing market and economy, says Patrick Newport, an economist at IHS Global Insight, referring to Obama's latest initiative.
But he warns against thinking that the impact of Obama's or other proposals would be enormous. Yes, the housing market and mortgage debts are central to the nation's current struggles, says Mr. Newport, who specializes in housing. But no single policy is a quick or dramatic fix.
The president, in essence, acknowledged that point in a speech Wednesday in Falls Church, Va.
---