Can Facebook IPO help solve a state budget crisis?
The Facebook IPO could bring California as much as $500 million in tax revenues from capital gains. Depending on whom you talk to, that's a significant help or a drop in the bucket.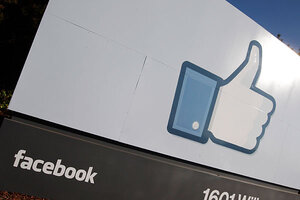 Paul Sakuma/AP/File
Headlines across this state are trumpeting the news: The Facebook initial public offering (IPO) – a stock sale that could happen as early as May – will help close the state's budget gap.
The Sacramento Bee says state officials are "giddy over the prospect of Facebook money helping California dig out of a $9.2 billion deficit."
Closer examination shows that state tax revenues could benefit to the tune of about $500 million dollars, more than the $450 million in tax revenues generated when Google went public in 2004. But how much will that help the state?
To H.D. Palmer, spokesman for the state Department of Finance, "clearly, this is a big deal."
He acknowledges the caveats: The impact depends when people sell their stock (likely spread over 18 to 24 months), and what the market conditions are at the time. And tax-privacy laws will make it hard to pinpoint exactly how much the IPO will help. But he is overjoyed.
"I have told folks that, on behalf of a grateful state, I will go to [Facebook founder] Mark Zuckerberg's house and wash his windows and mow his lawn."
Analysts say that the company could be valued at between $75 billion to $100 billion, depending on demand.
The main source of tax revenue would come from capital gains on the sales of the IPO stock. "Executives and investors who had a stake in Facebook before the IPO stand to report the biggest gains if and when they cash in shares," says Stephen Liedtka, a professor of accounting at Villanova University, in an e-mail.
"Given the magnitude of the offering, it seems reasonable to predict that executives will indeed seek to cash in some of their stock over the next few years to reduce their overall risk," he adds. "This certainly could be a blessing to California."
But political analyst Barbara O'Connor, says the money is a drop in the bucket.
---