Money pours into Planned Parenthood. Was Susan G. Komen misunderstood?
Planned Parenthood cited a $250,000 grant from Mayor Bloomberg among thousands of pledges. The Susan G. Komen Foundation said its donations spiked too. But the battle between the two women's organizations has just started.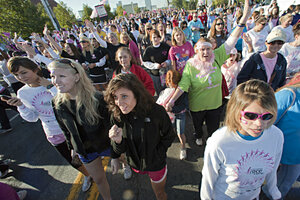 Brian Chilson/AP/File
Within 48 hours of news breaking that the Susan G. Komen for the Cure Foundation was cutting grants to the Planned Parenthood Federation of America for its breast-cancer screening program, PPFA has more than made up for the $680,000 in funds lost.
Thursday afternoon, Planned Parenthood announced that New York Mayor Michael Bloomberg was making a $250,000 matching grant. That comes in addition to pledges to Planned Parenthood totaling $400,000 from 6,000 donors in the first day, and a $250,000 grant from the Amy and Lee Fikes' Foundation of Dallas.
The Komen Foundation, too, reported a spike in donations Thursday – 100 percent in the past two days. No hard numbers were available.
But the real battle – between two powerful women's organizations – has only started. Planned Parenthood maintains that the funding cut was political, based on longstanding pressure on the Komen Foundation by opponents of abortion. Komen says that's not true, and that the decision resulted from the adoption of stricter criteria that bar grants to organizations that are under government investigation.
---