In surprise move, GOP leaders admit defeat in payroll tax battle
House GOP leaders had wanted to offset the cost of a payroll tax extension by spending cuts. But their decision Monday suggests that the political cost of a stalemate was too high.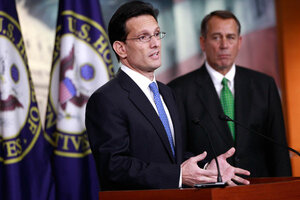 Charles Dharapak/AP
In a surprise move, House Republican leaders on Monday backed off their demands in the battle over extending a payroll tax cut that affects some 160 million Americans.
The move, which would keep payroll taxes at their current 4.2 percent rate through 2012, is expected to add another $83 billion to federal budget deficits. Republicans had wanted to offset that amount through spending cuts.
The House GOP has not given up its fight entirely. Other provisions set to expire Feb. 29 – extended unemployment insurance and a "fix" for a 27 percent mandated cut in reimbursement rates for doctors treating Medicare patients – remain stalled, especially over how to pay for them.
But had Republicans not yielded on the popular payroll tax break, the political costs could have been formidable, especially in an election year.
"It's a total capitulation," says Stan Collender, a longtime congressional budget analyst, now with Qorvis Communications in Washington. House Speaker John "Boehner read the tea leaves and said, 'I'm not going to do this again.' "
House Republicans took a pounding in the polls last December, as a struggle over how to pay for extending benefits was resolved at the 11th hour only after Speaker Boehner told his deeply divided caucus, in a conference call, that they had no option but to accept a two-month extension of the popular tax break – until Feb. 29 – and continue negotiations.
---