No budget? No problem! The strange politics behind a budgetless America.
President Obama has proposed a federal budget. Congress looks sure to ignore it, and Senate Democrats show no desire to pass any budget. It would be the fourth straight budgetless year.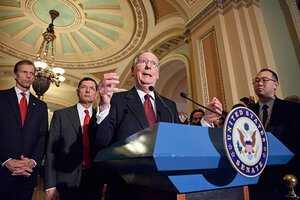 J. Scott Applewhite/AP
Seeking to avoid a politically toxic vote, Congress has failed to pass a federal budget for three years. This year's new twist? Congress might not even try.
On Monday, President Obama presented his proposed budget for fiscal year 2013. It's going nowhere on Capitol Hill, legislators and political analysts agree. What's more, Senate Democratic leaders show no intention of presenting their own budget proposals – or taking up any lobbed over from House Republicans.
Technically, they don't have to, Senate majority leader Harry Reid (D) of Nevada said on Feb. 3. He suggested that the terms of last summer's debt-ceiling agreement provide all the guidance that Congress needs for the coming fiscal year.
Indeed, with three mammoth spending measures – the Bush-tax cuts, the payroll-tax holiday, and automatic spending cuts triggered by the debt-ceiling deal – that must be settled by Dec. 31, most likely by the lame-duck session of Congress after the November elections, there is little appetite among members to expend political capital now on a budget.
The cost, say analysts, is that Congress is once again allowing the federal budget process to remain rudderless and lawmakers unaccountable as the nation lurches toward fiscal crisis.
"Congress is legally required to consider a budget resolution every year, but there's no penalty for not doing it, and no one has any standing to sue," says Stan Collender, a longtime congressional budget analyst with Qorvis Communications in Washington.
---