Chicago area called most corrupt in US. Why Rahm Emanuel is under fire.
Chicago and its suburbs have averaged 51 public corruption convictions per year since 1976, a new study finds. Critics say Rahm Emanuel has not made City Hall sufficiently transparent.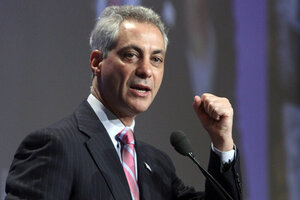 Chris Kleponis/Reuters/File
The Chicago area is the most corrupt federal jurisdiction in the United States, having averaged 51 public corruption convictions each year since 1976, according to a new report.
Critics of Mayor Rahm Emanuel, meanwhile, say his refusal to release internal records related to controversial policy initiatives are working against the perception that things are improving.
According to the new report, released Wednesday by the University of Illinois at Chicago, the Northern District of Illinois, which includes Chicago and the suburban area surrounding it, logged 1,531 public corruption convictions since 1976, or 84 percent of the state's total for such convictions.
While California and New York totaled more public corruption convictions, Illinois outranks those states on a per capita basis.
The report arrives the same day Mayor Emanuel hosts the first meeting of an inaugural ethics task force. Dick Simpson, a political scientist at the University of Illinois at Chicago who co-authored the report, will be the first witness to testify. He says Emanuel is "doing much better in releasing more information" than his predecessor, former Mayor Richard M. Daley, but still has a way to go toward eliminating the city's legendary patronage system and promoting full transparency at City Hall.
---