Why did Democrats choose Antonio Villaraigosa to lead national convention?
Antonio Villaraigosa has built an impressive résumé in the California Assembly and as mayor of Los Angeles. As chair of the Democratic National Convention, he could help woo Latinos.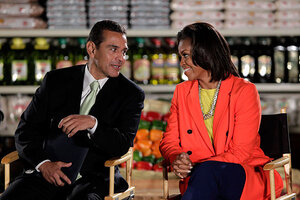 Jae C. Hong/AP/File
The appointment of Los Angeles Mayor Antonio Villaraigosa to be chairman of this summer's Democratic National Convention points to a political career on a potentially upward arc, with some analysts suggesting that a cabinet position could loom in President Obama's second term.
For Mr. Obama and the Democratic Party, the benefits could be more immediate. As essentially the emcee of the three-day September convention in Charlotte, N.C., Mayor Villaraigosa will provide instant outreach to Hispanics, who could be crucial in the general election. Moreover, his contacts in the business community are expected to be a boon to Democratic money-raising efforts.
"His appointment is a coup for the Democratic Party," says Barbara O'Connor, director emeritus of the Institute for Study of Politics and Media at California State University, Sacramento. "He will attract Hispanic voters but also a lot of money by virtue of his relationship to business both in Los Angeles and internationally."
Villaraigosa became the first Latino mayor of Los Angeles since 1872, and has amassed a résumé that includes speaker of the California Assembly – the first from L.A. in 25 years – and head of the US Conference of Mayors.
---