Indiana lawmaker slams 'radicalized' pro-abortion group. Yes, Girl Scouts.
Bob Morris, a member of the Indiana House, also called the Girl Scouts 'a tactical arm of Planned Parenthood' in a letter urging lawmakers not to mark the Girl Scouts' 100th anniversary.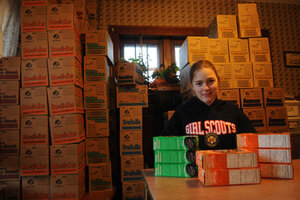 Scott Takushi/The St. Paul Pioneer Press/AP/File
An Indiana legislator is under fire from his fellow Republicans for describing the Girl Scouts of America a "radicalized organization" and urging the state House not to sign a resolution recognizing the organization's 100th anniversary.
In a letter written to fellow lawmakers, Rep. Bob Morris (R) writes that the Girl Scouts are "quickly becoming a tactical arm of Planned Parenthood," and that its agenda "includes sexualizing young girls" and promoting "homosexual lifestyles."
The letter went viral Tuesday after it was obtained and published by the Fort Wayne Journal Gazette.
Representative Morris said his findings are based on conversations with "some well-informed constituents" and "a small amount of web-based research." He cites a May 2009 article from World Net Daily, a conservative online news outlet, that states that Girl Scouts are not allowed to pray or sing Christmas carols.
He also criticizes an "education seminar" hosted by the organization, which asked girls to study 50 female role models. Of the fifty women listed, "only three have a briefly-mentioned religious background – all the rest are feminists, lesbians, or Communists," he writes.
---