A Congress with no room for Olympia Snowe and other centrists?
Sen. Olympia Snowe (R) of Maine is the latest centrist to depart Congress. For several years now, the partisans have been staying and the moderates have been either losing or leaving.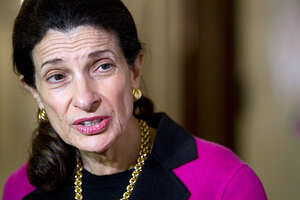 Carolyn Kaster/AP
Sniping and partisan acrimony inside Congress are evidently as bad as they seem from the outside, and Sen. Olympia Snowe would be first to second that.
Her decision not to seek a fourth term in the US Senate, announced Tuesday, has stunned lawmakers on both sides of the aisle. In a deeply divided Senate, Senator Snowe for years has been a key voice and a swing vote on issues ranging from tax cuts and economic stimulus plans to health-care reform.
But in the end, she cited partisanship, gridlock, and an inability to get things accomplished as not worth another six years of her career.
"An atmosphere of polarization and 'my way or the highway' ideologies has become pervasive in campaigns and in our governing institutions," Snowe said in a statement on Tuesday. "It is time for change in the way we govern, and I believe there are unique opportunities to build support for that change from outside the United States Senate."
Lawmakers willing to reach across the aisle are a vanishing species within the Republican Party – and are on the endangered list on the Democratic side of the aisle, as well. Nearly one-third of House Democratic centrists, or "blue dog" Democrats, aren't running for reelection, including three top leaders. From 52 members in 2009, the blue dogs are down to 25 now – and their numbers are likely to sink lower after the November elections.
---