Can Gary, Ind., be saved? A new mayor's bid to revive Rust Belt city
Gary, Ind., is one of the rustiest of Rust Belt cities, beset by high joblessness and crime. Mayor Karen Freeman-Wilson has an up-from-the-bootstraps plan to reverse the decline.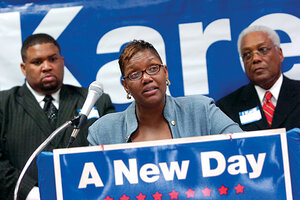 Stephanie Dowell/Post-Tribune/AP/File
The city that steel built is today hollowed out by poverty, lack of opportunity, and despair.
Gary, Ind., sits on the south shore of Lake Michigan, dominated by U.S. Steel's sprawling Gary Works. It's swamped by problems familiar to many old industrial cities: dwindling population, decaying streets and houses, struggling schools, and a level of joblessness that some say only hints at the real problem of unemployment. In 1994, the Chicago Tribune proclaimed Gary the "murder capital of America," and the town's reputation has never recovered. At the same time, many residents have lost faith in the capacity of city government to make things better.
Gary's new mayor, Karen Freeman-Wilson, aims to change this. She brings to the job ambitious plans to stop Gary's decline and restore a measure of the prosperity it enjoyed in the mid-20th century, when Indiana's steel mills employed tens of thousands of local workers. "It's a new day," she says.
But resurrecting Gary won't be easy. The decline has been going on for decades, and a line of mayors has tried in vain to reverse it. Ms. Freeman-Wilson's most immediate challenge is a fiscal deficit of between $15 million and $20 million in a city where services are already inadequate. She also must try to find ways to create more jobs during difficult economic times. Gary's official unemployment rate is 13 percent – well above the national average of 8.3 percent.
---