Obama chides rivals for 'popping off' about war with Iran over nukes
At a Super Tuesday press conference, Obama sought to draw a sharp line between himself and the GOP presidential field over handling of the Iran nuclear program. 'Loose talk,' he suggested, does not befit a commander in chief.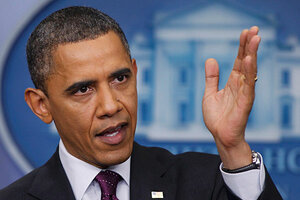 Larry Downing/Reuters
President Obama used a Super Tuesday press conference to draw a sharp distinction between himself and his Republican presidential rivals on the issue of Iran, suggesting "loose talk" about a war with Iran is not befitting of a commander in chief.
On the same day that three Republican presidential candidates – Mitt Romney, Rick Santorum, and Newt Gingrich – fired up a pro-Israel conference in Washington with talk of US intervention in Iran and with criticism of Mr. Obama's "diplomacy first" approach, the president reiterated his preference for a peaceful resolution of the Iranian nuclear crisis.
"Those who are … beating the drums of war should explain to the American people what they think the costs and benefits of war would be," Mr. Obama said. "Typically it's not the folks who are popping off who pay the price," he added, noting that instead it is the men and women of the military, some of whom don't come home.
Obama's message seemed to be: Other politicians can speak of war with "casualness" if they choose, but the commander in chief cannot. "This is not a game and there is nothing casual about it," he said.
Yet Obama the politician also knows that polls show war-weary Americans oppose by a wide margin a military intervention against Iran. The underlying political message seemed all the clearer given that the president chose to hold his first press conference since October on the day 10 states hold Republican primaries and caucuses in their presidential nominating process.
---