War games: Republicans could write Obama blank check on Iran
Senate Republican leader Mitch McConnell said Tuesday that Congress should consider giving the president preemptive authority to attack Iran. Democratic leaders were wary of the plan.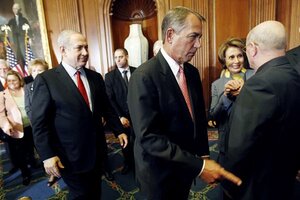 Kevin Lamarque/REUTERS
By showering Israeli Prime Minister Benjamin Netanyahu with affection on his trip to Capitol Hill Tuesday, members of Congress partially obscured a larger disagreement over just what tools the US should employ to stop Iran from developing a nuclear weapon.
Mr. Netanyahu, who had private meetings with groups of House and Senate leaders on both sides of the aisle, was giving love as good as he was getting.
"I don't think there is a place anywhere else on earth where we can match the clarity, courage, and wisdom that I find here in the halls of this institution," he said.
But the definition of "clarity" was up for debate as Democrats took issue with a bold plan floated by Senate minority leader Mitch McConnell (R) of Kentucky, which would preemptively give President Obama the green light to take military action against Iran.
---