Senate passes highway bill, but rough road ahead in House
After years of delay, the Senate passes a two-year highway bill to help fix the nation's roads, bridges, rails, and ports. But rifts in the House could delay passage.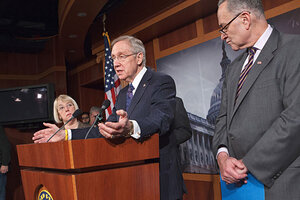 J. Scott Applewhite/AP
The Senate, after months of debate, passed a $109 billion, two-year bill funding the nation's transportation infrastructure in a lopsided vote on Wednesday.
The bill, which passed 74 to 22, marked a rare bipartisan triumph in the Senate. Now, the House must pass the Senate bill or its own version – a process that is complicated by divisions within Republican ranks.
Until the Senate and House agree, American businesses that rely on federal transportation dollars aren't exactly stalled, but they can't kick things into high gear, either.
"The highway system is our assembly line, and the only way we can have our assembly line improved is through the action of government," said Randy Mullett, a spokesman for Con-Way, a $5.3 billion trucking and freight company headquartered in Ann Arbor, Mich. "Can you imagine any other business in the country that runs like that?"
Since the last long-term transportation funding bill expired in 2009, Congress has passed more than a half-dozen short-term funding extensions of a bill that once rocketed through both chambers, fueled by pork-barrel spending and the knowledge that every congressional district in America had potholes to fill.
At least two major hurdles remain before this bill can become law.
First, members of Congress might have to pass a temporary stopgap extension of transportation funding, because the current authorization runs out at the end of March. House Republicans, who return from work in their home districts next week, might not be able to settle on how to respond to the Senate proposal before then.
---