Why is Ron Paul still in the GOP race - and what does he want?
He hasn't won a single state primary or caucus, yet Ron Paul soldiers on in the GOP presidential race. He is quietly amassing delegates to the GOP national convention, but his real aim is to infuse the party with his brand of Republicanism.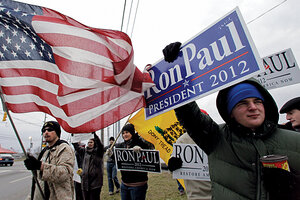 Eric Gay/AP
To gauge how far Ron Paul and his libertarian revolution have come, consider the GOP candidate's role in the 2008 Republican National Con­ven­tion in St. Paul, Minn.: Mr. Paul wasn't invited to speak and, along with 10,000 of his supporters, held a counter-convention in protest. This year he's angling for a spot on the coveted speakers list.
This much is clear: This time, the Grand Old Party can't dismiss Paul outright. Thanks to a confluence of crises central to his platform (a record level of federal debt, mounting concern about deficit spending, multiple foreign conflicts), Paul and his anti-Federal Reserve, anti-interventionist, small-government message are keenly relevant in this year's election conversation. Support from tea partyers and a loyal – and expanding – base of followers have propelled the congressman from Texas into the final four.
So it is that the 76-year-old candidate, whom the GOP establishment might like to keep at arm's length, holds some aces in the poker game being played by the remaining presidential contenders – even though he has yet to win a single state primary or caucus. (His supporters, though, argue that Paul won the popular vote in the US Virgin Islands caucuses on March 10, though Mitt Romney snagged more delegates to the party's national nominating convention.)
---