Tea party insurgency could unravel Paul Ryan Republican budget plan
Conservatives in Congress, led by three tea party senators, are balking at Rep. Paul Ryan's Republican House budget, saying it doesn't balance the budget quickly enough.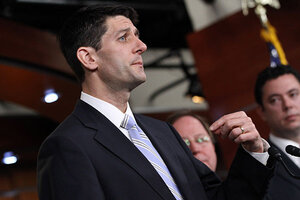 Jacquelyn Martin/AP
The Republican House budget plan introduced by Rep. Paul Ryan Tuesday is already splitting Republicans.
There are those that love it – that laud Ryan for taking on tough issues and pushing a national conversation about the key conservative issues of debt and taxes. But there are also those who say it doesn't go far enough.
It is a replay of the fractures that have made the Republican caucus so unwieldy since the 2010 midterm elections. And with Democrats lining up to take shots at the bill, which they say would "end Medicare as we know it," a split republican front raises questions over whether Congressman Ryan's proposal will be able to withstand the coming onslaught.
Take the GOP presidential contenders, who were mostly positive, calling the budget "bold" and "courageous," though Rick Santorum said that it needed to cut spending faster.
The fourth presidential candidate – Rep. Ron Paul of Texas – and many party conservatives, however, are against the plan.
No matter its positives, the budget is a "disappointment for fiscal conservatives," said Club for Growth President Chris Chocola.
Their criticism centers on what they see as two serious flaws.
---