Insider trading bill: A model to end gridlock on Congress?
The Senate passed jobs and insider-trading bills Thursday, hailing a moment of bipartisanship. But times when members of Congress get along are rare – and that isn't expected to change.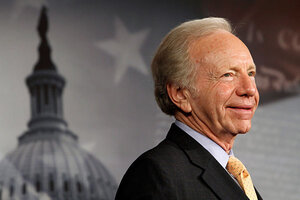 Jacquelyn Martin/AP/File
After months of gridlock, the Senate on Thursday passed two measures to ban insider trading on Capitol Hill and help small businesses raise capital.
The Stop Trading on Congressional Knowledge (STOCK) Act heads to President Obama's desk, while the Jumpstart our Business Startups (JOBS) Act is slated for a conference committee to resolve differences between the House and Senate over investor protections, especially involving fundraising over the Internet.
The message that lawmakers hope that the public takes away from the Senate vote comes down to this: Congress can work. Even amid stark partisan divisions, bills with bipartisan support can rocket through Congress, if members conclude that notching minor legislative achievements for both sides outweighs heading into an election season where voters, enraged by gridlock, throw all the bums out.
"Bipartisanship often survives not because people are feeling good or feeling civil, but because it's in the interest of both parties to play ball at something," says Julian Zelizer, a congressional historian at Princeton University in New Jersey.
"In both cases, [the bills passed Thursday] are not items that are so high visibility that they'll cause that much discussion. Both those measures are important, but it wasn't like health care. And so it's something, ironically, the parties can agree on and not anger everyone in their base."
---