Health-care reform: Main issue after 2 years is, will it survive?
Health-care reform law is extolled by the White House for improving lives and is the object of scorn from the GOP. But the looming Supreme Court battle overshadows the partisan debate.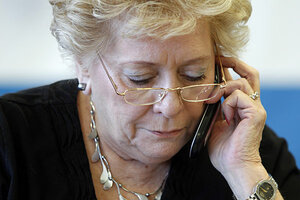 Ed Andrieski/AP
Two years to the day after President Obama signed it into law, the Affordable Care Act remains very much a work in progress.
The White House says its health-care reforms have improved the lives of millions, though the legislation's most important provisions have yet to take effect. Detractors – a category that includes every GOP presidential hopeful – scorn Mr. Obama's health reforms as Treasury-busting infringements on American freedoms.
Yet the most important question dealing with the ACA may be not how it's doing, but whether it will survive. Next week the Supreme Court hears oral arguments on the constitutionality of the law's lynchpin requirement that individuals carry health insurance.
"What's at stake basically is whether or not the signature domestic achievement of the Obama administration is sustained," says Russell Wheeler, a visiting fellow in governance studies at the Brookings Institution, in an online interview on the Affordable Care Act's future.
Obama himself did not make a big live appearance promoting the ACA's birthday. That could be in deference to the upcoming Supreme Court arguments, or it could be a reflection of the fact that polls show US voters remain split on whether the law's passage was a good thing.
White House spokesman Jay Carney said Thursday it is "absurd" to think that Obama is distancing himself from the health law. Carney noted that Obama's campaign has produced a video featuring Americans who have benefited from the ACA.
---