Obama health reform law goes on trial amid deeply split public opinion
Public opinion polls on Obama's health reform law are murkier than Republican leaders claim. True, a majority of the public sees the individual mandate as unconstitutional, but Americans like many of its other provisions.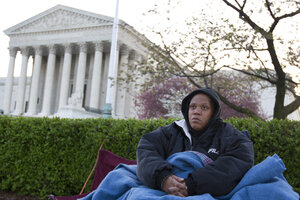 Carolyn Kaster/AP
Whatever you call it – the Affordable Care Act, health-care reform, Obamacare – one aspect of President Obama's signature health-care law is taken almost as if etched in stone: Americans "don't like it, they think it's unconstitutional, and they want it repealed," as Senate minority leader Mitch McConnell put it in the GOP's weekly television address last week.
As the US Supreme Court begins three days of argument over the 2010 health-care reform law, a close reading of several recent opinion polls shows that public sentiment may be more complex than that – and may complicate Republicans' push to make health care a central part of their political agenda through November.
The crux of the matter? Americans see the individual mandate, the law's requirement that almost every American buy health insurance or pay a penalty, as unconstitutional.
At the same time, the overall law – with popular measures like the ability to keep children on a parent's health-insurance policy through age 26 – either divides public opinion or tilts slightly toward Democrats' positions.
---