EPA issues new rule on greenhouse gas emissions: Where does that leave coal?
The EPA proposed the first-ever US curbs on power plants' greenhouse gas emissions, saying next-generation coal plants should meet the restrictions. But the coal industry slammed the new rule.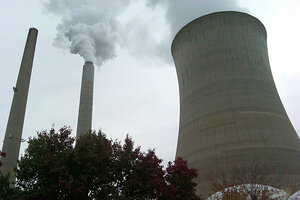 Ayesha Rascoe/Reuters/Files
The Obama administration on Tuesday proposed the nation's first-ever restrictions on greenhouse gas emissions from US power plants. If approved, the restrictions are expected to sharply curb construction of new coal-fired power plants nationwide.
The proposed restrictions, unveiled by officials at the Environmental Protection Agency, would apply only to new fossil-fuel-burning power plants – limiting them to no more than 1,000 pounds of carbon dioxide emissions per megawatt generated.
A typical coal-fired plant produces more than 1,700 pounds of carbon dioxide per megawatt. Most natural-gas fired plants – the majority of power plants under construction today – emit less than the new standard, around 800 pounds per megawatt.
The proposed restrictions were hailed by environmentalists but criticized by the coal industry as leading to higher electricity prices.
EPA officials stressed that the agency was abiding by a US Supreme Court mandate – and said the new rule should not be onerous because it follows industry trends toward cleaner power plants. The agency will soon open the rule to public comment, including public hearings, with an expected final rule late this year.
"Today we're taking a common-sense step to reduce pollution in our air, protect the planet for our children, and move us into a new era of American energy," said EPA Administrator Lisa Jackson. "We're putting in place a standard that relies on the use of clean, American-made technology to tackle a challenge that we can't leave to our kids and grandkids."
---