Republicans back a Republican budget: why that's news
House Republicans are setting aside differences to give the Ryan budget the votes to proceed, despite tea party concerns. In the Senate, however, it will be dead on arrival.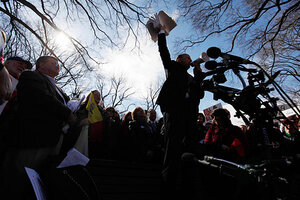 Gerald Herbert/AP/File
House Republicans head into votes Wednesday night prepared put their differences aside and rally behind the GOP's latest budget proposal.
Conservatives, including tea party-backed members, worried that the budget didn't go far enough, and with elections looming this fall, they saw the budget as their last chance to satisfy voters who gave Republicans back control of the House in 2010.
But key members of House's largest conservative caucus, the Republican Study Committee (RSC), agreed to back the budget plan House Budget Chair Paul Ryan (R) of Wisconsin because they feel they had helped prod it far enough to the right.
For example, they worked to include in the budget a plan to pare back government outlays beyond the level agreed to in last summer's debt-ceiling accord; to mandate reductions in welfare spending; and to combine Medicaid and the State Children's Health Insurance program to save more than $800 billion over 10 years.
In the end, the bill will be dead on arrival in the Democratic-held Senate, but Republicans say passing their own budget sends an important message for the election.
RSC Chairman Jim Jordan (R) of Ohio said he will back the Ryan busget, though RSC members will also be able to vote for their own, more conservative budget, as well.
For example, where Ryan's budget proposes $1.028 trillion in discretionary spending – that's $19 billion less than the $1.047 trillion cap set in 2011 debt-limit legislation – the RSC budget cuts discretionary spending back to $931 billion.
In effect, that means that, despite the cuts, the Ryan budget still grows discretionary spending compared with fiscal year 2011 levels, while the RSC's budget would roll spending back to FY 2008 levels.
---