Why the Simpson-Bowles budget defeat isn't the end of the line
Simpson-Bowles is still the top bipartisan budget deal out there – and Congress may need it when it faces a showdown in December over the expiring Bush tax cuts and mandated spending cuts.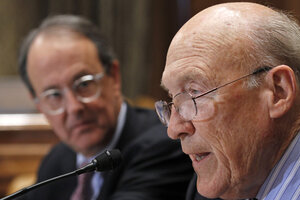 Alex Brandon/AP/File
A budget plan based on the 2010 Simpson-Bowles proposal for cutting the nation's debt and deficit was put to its first-ever vote in Congress Wednesday night after 14 months of languishing as something between a policy paper and a bipartisan pipe dream.
It went down in flames.
The proposal, built from the work of a bipartisan commission established by President Obama to determine the best approach to America's long-term financial challenges, was defeated 38 to 382. The plan attempts to cut the US deficit by $4 trillion over the next decade through a mix of spending cuts and higher taxes.
Still, the lopsided vote count may obscure the proposal's potential to impact the debt debate.
"In order to achieve a big and balanced deficit-reduction package, we must build a broad consensus," said House Democratic whip Steny Hoyer of Maryland, in a statement. "The budget ... came to the floor before that broad consensus could be achieved, which is why I voted against it."
"I continue to believe that the Bowles-Simpson model should be a basis for ongoing discussions in the effort to create the needed consensus," he added.
How could a plan that was so thoroughly creamed stay relevant? With a likely spending showdown looming in December, the plan's bipartisan bona fides make it worth pursuing, said Reps. Steven LaTourette (R) of Ohio and Jim Cooper (D) of Tennessee, the bill's sponsors, on the House floor and in interviews before the vote Wednesday.
---