How Occupy Wall Street plans to spring back to action
Occupy Wall Street isn't dead, leaders of the movement say. It's ready to emerge from a winter of hibernation with a spring of renewed activism.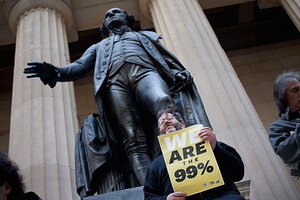 Andrew Burton/REUTERS
After a relatively low-profile winter, the movement that branded pup-tent activism into the national consciousness is embracing the advent of spring.
In Washington Friday the Occupy Wall Street (OWS) movement is launching its second act, kicking off a month-long series of marches, training sessions, and general assemblies with Occupyers from all over the nation.
Dubbed National Occupy Washington (NOW), the event began with a march on the Environmental Protection Agency – accompanied by a brace of alpacas, a large polar bear, and a even larger blow-up of planet Earth.
"This is just the tip of the iceberg," Kevin Zeese, one of the coorganizers, says by cell phone while marching under the overcast capital skies.
"We are preparing to give people the skills and training they need for longer and more powerful involvement," he says, adding, "the tents were just a tactic, not the purpose of this movement."
While many have seen the disappearance of the signature tents from downtown parks from New York to Oakland and Boston to Los Angeles as a sign that OWS had lost both its appeal and vigor, Mr. Zeese counters that long-term social campaigns such as the civil rights movement unfolded over years and took many forms as they progressed.
"We may be less visible, but we are just getting started," Zeese says.
---