The faith factor: Liberal pastor sees secular line around politics
A liberal pastor thinks public politics should be secular, even if faith is a quiet factor personally.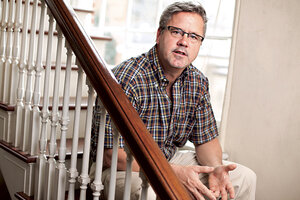 Colin M. Lenton/Special to the Christian Science Monitor
In a little brick parsonage surrounded by landmarks of America's independence, the Rev. Michael Caine, pastor of Old First Reformed United Church of Christ, talks about freedoms: the freedom of individuals to interpret Scripture as they see fit; his congregation's freedom from big-church doctrinal and bureaucratic demands; and his members' freedom to be who they are, a diverse collection of folks more bound by progressive political leaning than by age, race, or class.
It's no surprise the pastor likes freedom. After all, it was the desire to sing and study the Bible unburdened by liturgical demands that led Mr. Caine's forebears in the faith to dissent from their English hierarchy. The church's congregation has been independent-minded ever since.
But when Caine preaches, he aims for the pastoral, not the political. One recent Sunday, for example, he reflected on a verse from Corinthians: "for the foolishness of God is wiser than human wisdom, and the weakness of God is stronger than human strength." His sermon that day was "mostly about a call to humility as human beings for things we don't know and can't know," he says. "I would say there's a translation into US politics which prevents us from believing there's one way of understanding our world or our faith or even what's right and wrong."
---