Candidates' wives: What will they bring to the 2012 election
While only the candidate will be on the ballot in November, voters cannot ignore their wives. But what do they bring to their husbands' presidential campaigns? And do they have favorable views?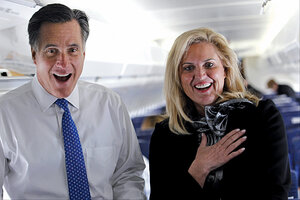 Gerald Herbert/AP
It has become a regular feature on the campaign trail. Ann Romney introduces her husband – and aims her message right at the gender gap.
"Women are angry" about the deficit, Mrs. Romney said in Schaumburg, Ill., after her husband's victory March 20 in the Illinois primary. "They're angry about the legacy we're going to leave our children and ... grandchildren, and I'm going to tell them something: I've got somebody here that can fix it."
Ask strategists from either party about the wife of the likely Repub­lican nominee, and you get a string of compliments.
"I like Ann Rom­ney a lot," says Demo­cratic pollster Margie Omero. "She's a great surrogate for Mitt. She connects with people in a way that he struggles to."
Kind of like Michelle Obama, in fact. "They both do a good job of adding context to their husbands," says Ms. Omero.
"Clearly, [Mitt Romney] seems more relaxed when he's with her, and she seems very comfortable talking about the economy and the budget," says Republican pollster Linda DiVall. "She helps remove some of the aloofness or remoteness of Mitt Romney."
---