Mitt Romney's problem with women voters: views from a battleground state
In Virginia, a 2012 battleground state, women prefer Obama to Mitt Romney by 13 percentage points, polls show. Analysts say Virginia reflects the national outlook, which could bode well for the president come November.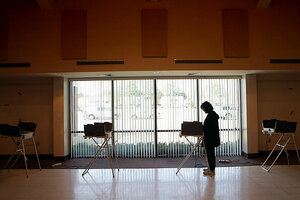 Vicki Cronis-Nohe/The Virginian-Pilot/AP
For the Republican political experts slicing and dicing the electorate this presidential cycle, Christie Struckman is cause for extreme worry.
The McLean, Va., mother of two describes herself as a "radical centrist" and a reliable Republican voter who gauges a candidate's character and ability to reach across the aisle above all. She lives in Virginia's 10th District, a much-watched swing location outside Washington that helped elect President Obama in 2008 but sent a conservative governor to Richmond the following year.
Ms. Struckman has taken a good gander at the GOP candidates running this cycle and decided that no matter whom her party ultimately elevates, she will back Mr. Obama.
"I'm not excited about any of the Republican nominees," says Struckman, a statistician and former college professor, during an interview outside the Spring Hill Recreation Center in Fairfax County. "I don't think any of the Republicans are particularly qualified."
Struckman represents – with only modest hyperbole – the holy grail in American politics today. Women vote in greater numbers than men, and in Virginia, considered by many experts to be a good indicator of the country's sentiment in the national contest, Obama's advantage in recent polling has buoyed the Democrats' hopes for November.
---