Americans spread blame for high gas prices, foresee $4.75 a gallon
Americans foresee, on average, gas prices at $4.75 a gallon within three months, shows a Christian Science Monitor/TIPP poll. They most blame the oil industry and Wall Street. But they expect politicians to act.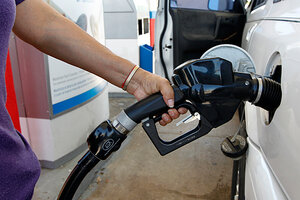 Tony Gutierrez/AP
Americans believe gas prices will climb higher heading into the summer driving season, new polling suggests, and they put the oil industry and Wall Street speculators at the top of the list of villains behind higher prices at the pump.
How high do people see prices getting three months from now? The average expectation is $4.75 per gallon of regular unleaded fuel, according to a Christian Science Monitor/TIPP survey of 906 adults nationwide released Friday. That would be up 20 percent from the current national average of $3.93, according to AAA's Daily Fuel Gauge Report.
The business and finance communities get the biggest share of the blame. Nearly one-quarter of those polled blame the oil industry most for rising gasoline prices; roughly 20 percent most blame Wall Street speculators. Politicians don't get off scot-free, however. Fourteen percent most blame the Obama administration and 9 percent blame Congress.
Previous polls show that the public believes the White House, particularly, could do more to keep a lid on the cost of gasoline. A CBS/New York Times poll from March showed 54 percent of Americans believe President Obama "can do a lot about" gas prices, and a Gallup poll from earlier in the same month showed 85 percent supporting "immediate actions" by both Mr. Obama and Congress to lower prices.
---