Jerry Brown's Waterloo Station? California high-speed rail takes a new hit.
A congressional committee says it will investigate federal funding for California's embattled high-speed rail project. California Gov. Jerry Brown's continued support is making him an increasingly lonely voice.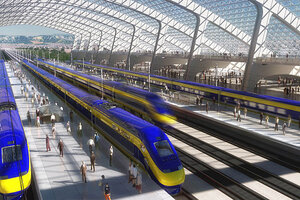 California High Speed Rail Authority/AP/File
The strikes against California's high-speed rail project keep piling up, but Gov. Jerry Brown refuses to abandon the project, with one political analyst even likening him to Captain Ahab.
The latest blow to California's plan to connect north and south with an ambitious network of high-speed rail lines came Monday in Washington. Rep. Darrell Issa (R) of California announced that the oversight committee he chairs will investigate crucial federal funding of the project.
That followed two studies – one by and independent panel, one by the state auditor – that called the plan risky. Polls show faltering support among California voters because of rising costs.
Governor Brown's continuing support for the project – which is expected to cost $68 billion, according to a new business plan – suggests that he sees high-speed rail as a part of his legacy, just as his father, legendary Gov. Pat Brown, is credited with building up modern-day California's university and water system in the 1960s.
"Brown is trying to leave a legacy in the tradition of his father," says Robert Stern, former president of the Center for Governmental Studies.
But for a Democratic governor who is depending on voters to pass a tax hike this year that he says is crucial to balancing the state budget long-term, his insistence on high-speed rail could have consequences.
"Jerry Brown's continued pursuit of the 'bullet train' carries some notable political costs," says Steven Schier, a political scientist at Carleton College in Northfield, Minn. "It provides a big target for his GOP rivals, who will use the initiative to characterize Brown as a big tax-and-spend politician."
---