Trayvon Martin case a trial by fire for rookie Sanford mayor
For about a month, Mayor Jeff Triplett labored to keep a lid on an explosive situation in Sanford, Fla., after local police released George Zimmerman, who fatally shot teenager Trayvon Martin. The mayor emerged intact, but not unchanged.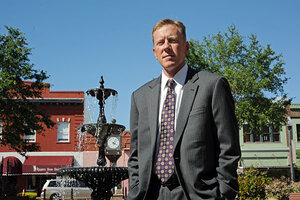 Sarah Beth Glicksteen/Special to The Christian Science Monitor
For four chaotic weeks, Jeff Triplett, mayor of Sanford, Fla., lived and breathed the Trayvon Martin saga. It was a time of turmoil and uncertainty, of sadness and anger, of marathon meetings and spirited marches in a town suddenly thrust before the nation, dressed in the garb of a civil rights throwback. What to do, how to meet the challenge became an overriding preoccupation for Mr. Triplett, a white banker holding small-town elected office for the first time.
In some ways, he couldn't feel like he had a firm handle on things until late on April 11, when a Florida prosecutor announced that a local neighborhood watchman would be charged, after all, in the Feb. 26 shooting death of the unarmed black teenager.
"The relief of, it's truly in their hands now. We can take that part off of our plate," Triplett said the next day, his voice hoarse and tired-sounding.
One thing is for certain: Trayvon's case does not leave Triplett where it found him. He was never at the center of the drama, but the role he played – behind the scenes, in television interviews, at key decision points – appears to have been an important supporting one. And it came, like all career-changing roles, out of nowhere.
Triplett was with his two young sons in Tampa, Fla., watching them play football, when he first heard the name of 17-year-old Trayvon Martin.
"My phone just starts blowing up," he says in an interview. Upon hearing that George Zimmerman wasn't arrested after shooting Trayvon, Triplett put his head in his hands in disbelief.
"What do you mean you didn't arrest him?" he remembers thinking. "I don't get it. I don't understand."
---