Why hasn't Rick Santorum endorsed Mitt Romney yet?
Rick Santorum dropped out of the GOP race eight days ago. That's more time than Mitt Romney took four years ago to endorse John McCain. But the Pennsylvanian has good reason to hold out.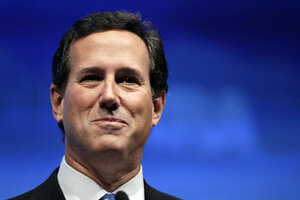 Michael Conroy/AP
Rick Santorum dropped out of the presidential race eight days ago, but he has yet to endorse the presumptive Republican nominee, Mitt Romney. What's more, a Santorum fundraising letter arrived in Iowa voters' mailboxes on Monday that was highly critical of Mr. Romney.
And in a conference call with more than 4,000 supporters Monday night, Mr. Santorum was asked by the host – reportedly in jest – if he would "unsuspend" his campaign if enough people voted for him in next Tuesday's primary in Pennsylvania, his home state.
"I would just say this," Santorum replied, according to The National Journal. "The best thing that they can do is stay tuned, and we really are serious about making sure that the issues that we brought up during this campaign are continued going forward."
Amid a divisive primary season, in which many Republicans have raised concerns about Romney's conservative bona fides, should the former Massachusetts governor worry about Santorum?
Not really. There's often a lag between a candidate's dropout announcement and his or her endorsement for president. Four years ago, Romney took a week after dropping out to endorse the eventual nominee, John McCain. The eventual entente involved delicate negotiations between the two camps, and was facilitated by personal relationships between aides to both men, according to published reports at the time.
---