Price of debt-ceiling deal: GOP plan goes 'for the jugular,' Dems say
No one in Congress likes the 'sequester' – the more than $900 billion in automatic cuts written into last year's debt deal – but Democrats say that's better than the new GOP plan to avoid it.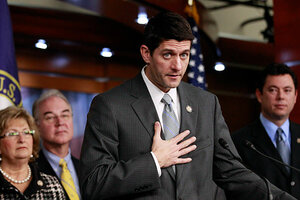 Manuel Balce Ceneta/AP/File
Facing the prospect of a draconian "sequester" – the across-the-board cuts that were the price of last summer's debt deal – the Republican-controlled House Budget Committee on Monday approved a plan Democrats say would "go for the jugular" of vulnerable children and seniors.
The proposal would spread the pain of next year's sequester over a decade to avoid $55 billion in mandated defense cuts. The full House is expected to vote on it Thursday.
The committee passed a pair of bills Monday – the first along party lines 21 to 9, the second on a 21-to-13 vote, with Rep. Justin Amash (R) of Michigan voting with the Democrats in opposition. Together, those bills would lower federal spending by $261 billion over the next decade to head off most of the $109 billion in cuts scheduled to hit in January. They do so through a blend of spending cuts in food and nutrition programs for poor and elderly Americans in the short term, while taking chunks out of President Obama's signature health-care reform law and raising federal workers' pension contributions in the long term.
And they left Democrats steaming, with Rep. Lloyd Doggett (D) of Texas holding up a sign dubbing the proceedings "Wreckonciliation."
"If a political party wanted to undermine the health and economic security of millions of American families, well, this is the way to do it," said Rep. Kathy Castor (D) of Florida.
---