Transportation bill, not yet passed, already blasted by critics
House and Senate negotiators are considering how to mesh two very different transportation bills, but experts and lobbyists say neither bill addresses the fundamental problems.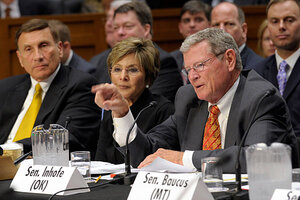 Susan Walsh/AP
House and Senate negotiators may be weeks or even months away from reaching a compromise bill to fund America's transportation needs. But transportation experts don't need to wait for the final product, set to be hammered out by a conference committee beginning Tuesday afternoon. Whatever bill emerges, they say, will once again succeed only in kicking the can of sustainably funding American infrastructure down an ever-more-rutted road.
Bipartisan commissions have repeatedly suggested two crucial changes in how America pays for its infrastructure:
A short-term increase in the gasoline tax to make sure US highway funding doesn't go belly-up.
A long-term plan for charging drivers directly for how many miles they drive.
Neither the House's basic 90-day extension of funding passed April 20, nor the Senate's more ambitious two-year plan passed March 14 addresses those suggestions. Until Congress is willing to consider such proposals, any transportation bill is merely papering over the cracks, say economic groups.
"We're at a point where we're at the 'searching under the couch cushions' portion of finding transportation funding as opposed to dealing directly with the question of user fees," says Janet Kavinoky, executive director for transportation and infrastructure at the US Chamber of Commerce.
What's wrong with America's transportation situation? In large measure, it's the gas tax.
The federal gas tax is a primary means of funding highway construction and maintenance. The problem is that it is not indexed for inflation, so while road repair costs creep upward, the gas tax stays the same.
---