Jerry Brown proposes billions in cuts. Are Californians getting his message?
With California's budget shortfall soaring, Gov. Jerry Brown (D) proposes broad, painful cuts for state workers and programs. Without new taxes, he warns voters, the cuts will be even worse.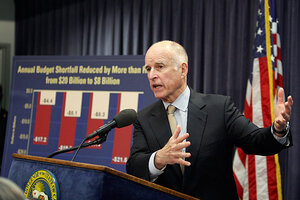 David McNew/Reuters
California Gov. Jerry Brown is facing the music.
Hit with a soaring state budget shortfall of $15.7 billion – up from $9.2 billion as recently as January – Governor Brown announced proposals Monday to make $8.3 billion in painful, cross-the-board cuts that quickly elicited outcries from those affected.
Most telling of his predicament, and his strategy, Brown admonished California voters that if they don't pass his tax-hike initiative in November, $6 billion more will have to come out of budgets for public schools and higher education.
"We have so much money from the people, and we have so much spending," the governor said at a press conference in Sacramento before jetting to Los Angeles to release further details. "We can be out of alignment for awhile, but now – given the decade of fiscal disconnect – I've committed to right the ship of state and getting it into balance."
The proposals include cuts to state employees' pay – and work week – as well as trims in spending on a wide variety of public programs and institutions: state prisons; care for the disabled; $500 millon from the state court system; and a one-year state building freeze.
"These budget cuts have something in them that will hit every Californian. The pain will be severe," says Barbara O'Connor, director emeritus of the Institute for Study of Politics and Media at California State University, Sacramento.
"They are evenly spread," she says, "and education at all levels – as well as health and human services and public safety – will be the focal points in this round of cuts.
"There have already been several previous rounds of cuts," she adds. "These cuts will also endanger federal programs that California could qualify for."
---