Obama's Cory Booker problem: allies undercut anti-Bain message
Cory Booker, Newark's charismatic mayor, back-tracked on his defense of Mitt Romney's company, Bain, but only part-way. Other Obama supporters are muddying his message on private equity, too.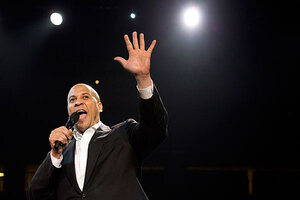 Charles Sykes/AP
Over the weekend, House Speaker John Boehner colorfully called his Republican caucus "frogs in a wheelbarrow." But President Obama has his own collection of jumpy amphibians to keep on board.
Cory Booker, the charismatic Democratic mayor of Newark, N.J., and regular Obama surrogate, went off script Sunday on "Meet the Press" when he called the tone of the presidential campaign "nauseating" – explicitly mentioning Team Obama's attacks on Mitt Romney's former private equity firm, Bain Capital.
Mayor Booker – most recently famous for rescuing his neighbor from her burning house – went after Republicans, too. He disparaged the recent proposal, attributed to GOP strategists, to have an outside group attack Mr. Obama via his flame-throwing former pastor, the Rev. Jeremiah Wright.
But it was Booker's defense of Bain that made headlines, reinforced by his half-hearted attempt later in the day Sunday to walk it back in a video to his social-media fan base. Still, Monday morning, the Obama campaign stuck with its anti-Bain script, launching a new line of attack via the bankruptcy tale of another Bain acquisition, the Indiana-based Ampad. In a conference call with reporters, campaign spokesman Ben LaBolt and a former Ampad employee accused Romney of "run[ning] other businesses into the ground even while turning a profit for himself and his investors," as Mr. LaBolt put it.
---