Key Senate Democrat resists push to renew Bush tax cuts before election
House Republicans want to extend the Bush tax cuts sooner rather than later. Sen. Max Baucus, Senate Finance Committee chief, said Monday the tax code is a 'hydra' – and that lawmakers should lay groundwork and trust before tackling it.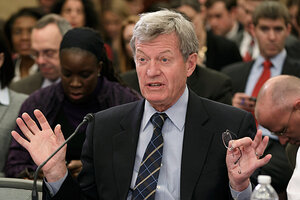 J. Scott Applewhite/AP
Likening the US tax code to the "hydra," the many-headed Greek monster, Sen. Max Baucus (D) said Congress should take on the herculean task of tax reform by building consensus and trust behind the scenes in the run-up to November's election.
"We should try to avoid divisive votes prior to the election," said Senator Baucus of Montana, chairman of the Senate Finance Committee. "I don't want members of the House and Senate too locked in" to their positions by preelection votes before the lame-duck session and beyond.
That stance appears to put him at odds with his House counterpart, Ways and Means Committee Chairman Dave Camp (R) of Michigan. Representative Camp and the House Republican leadership say they will vote to extend for another year all of the Bush tax cuts, which are slated to expire in December. Such an extension would reduce economic uncertainty and prevent tax rates from rising for all Americans come Jan. 3, 2013, they argue.
"We don't have to wait until the end of the year," Camp said in an interview Friday. "We could extend current tax law now, and frankly the sooner we send that signal, the better."
But Baucus, in a speech on tax reform at the Bipartisan Policy Center on Monday and in a subsequent discussion with reporters, said "the better approach at this point" is his strategy of engaging members of Congress in discussions, to educate them about the main tax-reform proposals, such as those advocated by President Obama's debt commission, commonly known as Simpson-Bowles after the two chairmen, and by former White House Budget Director Alice Rivlin and former New Mexico Sen. Pete Dominici.
---