DREAM deferred? Will Obama order make immigration reform harder?
President Obama, acting without Congress, took steps to curtail deportations for young illegal immigrants. Republicans say the move could jeopardize prospects for immigration reform.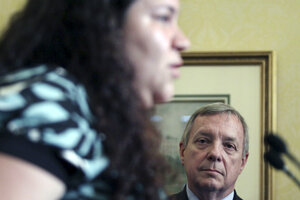 Lauren Victoria Burke/AP/File
President Obama's unilateral changes to the nation's deportation policies to shield young illegal immigrants reopened one of the most contentious issues in American politics.
Mr. Obama's executive action on Friday generated two immediate questions among members of Congress.
First, is alleviating the plight of young illegal immigrants worth the policy's risks? And second, did the president hurt immigration reform's long-term prospects by doing a short-term fix that conservatives saw as an end run around congressional authority and the Constitution?
Obama's policies would allow certain illegal immigrants a renewable two-year deferral from deportation and eligibility to apply for work authorization. Those affected are individuals who came to the US before age 16 but are now under age 30; have lived in the US for at least five continuous years; are in school or have graduated from high school or are serving in the military; and have not been convicted of a felony or a significant misdemeanor.
They are essentially the same people who would be affected by the DREAM Act, an immigration-reform bill that has stalled in Congress.
Many Democrats welcomed the move, which they say means real differences in the lives of illegal immigrants today.
"The Obama administration's decision to extend temporary legal status to DREAM Act students is an historic humanitarian moment," said Sen. Dick Durbin (D) of Illinois in a statement. "This action will give these young immigrants their chance to come out of the shadows and be part of the only country they've ever called home."
---