Health-care reform law will survive even if mandate doesn't, experts say
Chaos will not ensue if the US Supreme Court strikes down the individual mandate to buy health insurance, even if other parts of Obama's health-care reform law are upheld, health experts say. But premiums would be likely to rise.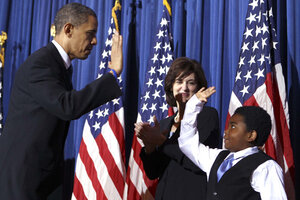 Larry Downing/REUTERS
When the US Supreme Court rules on President Obama's Affordable Care Act, there's a distinct possibility that the federal mandate requiring most people to buy health insurance – a pillar of the law – will be declared unconstitutional.
So if just the mandate goes, does the rest of the law fall apart?
In a word, no. Health-care experts, gaming out scenarios for how the court might rule, say the end of the mandate indeed means that some people wouldn't buy insurance – but if the court lets stand other provisions of the law, the ranks of the insured will still go up.
If the law is not upheld in its entirety, health-insurance coverage "and how that influences the cost of health care, and whether everyone gets a fair shot at getting coverage – those will be challenges. But I don't think it will be chaotic," Dr. Jeremy Lazarus, incoming president of the American Medical Association, recently told The Associated Press.
Even without the mandate, the law's expansion of Medicaid eligibility would cover some 16 million people, about half the total number of people who would gain insurance if the whole law is upheld, according to the Congressional Budget Office (CBO).
---