Polling: a look inside the machinery of public opinion surveys
Polling: Behind the scenes at Gallup, interviewers and editors try to find out how Americans will vote on election day. With the media's dependence on public opinion statistics, news consumers must educate themselves about which surveys provide valuable data and why.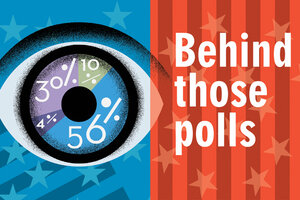 Art by Laura Smith/Special to The Christian Science Monitor
Omaha, Neb.; and Washington
It's dinner time in America.
Somewhere parents and children sit down together to eat, to talk through their respective days, to enjoy precious shared time. The phone rings.
"Hi, I'm Michael Jablonski," says a man whose name is no doubt unfamiliar to the woman who answers, "and I'm calling about a Gallup poll.... We'd like to include your opinions. Can you help us out?"
His inquiry – from a Gallup interviewer sitting in a phone center in a city office park here in Omaha, Neb. – is one of many thousands that citizens will field from interested survey companies as the 2012 White House contest ramps up.
Their answers will mirror the mood of the country, but the mood of the country can very well be affected by the poll itself.
Public opinion surveys have become a ubiquitous element of American political culture. The numbers – some reliable, others less so – are pawed over and interpreted for headlines, insight, and horse-race drama by newspaper reporters, cable news talking heads, and bloggers of all party persuasions.
With each successive election of the modern age, there are more organizations looking to mine what the adult voter believes about the incumbent president and his rival, the state of the nation, and a host of issues from the economy to gay marriage.
---