Former President Bush (41) reflects on his legacy, including 'Read my lips'
In a Parade Magazine interview former president George H. W. Bush talks about what he learned from Ronald Reagan, his surprisingly close relationship with Bill Clinton, and – oh, yes – his infamous tax pledge.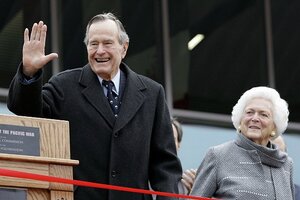 Eric Gay/AP
One of the most powerful unelected men in Washington for years has been Grover Norquist, president of Americans for Tax Reform.
He's most famous for pressuring members of Congress and other elective offices – more than 1,100 to date – to sign a "Taxpayer Protection Pledge" in which they "solemnly bind themselves to oppose any and all tax increases."
In 2010, 88 percent of Republican "Young Gun" congressional candidates signed the pledge, according to a Huffington Post tally, although that seems to be dropping off in 2012 as more incumbents and first-time candidates assert their independence.
QUIZ: Know your US presidents? See if D.C. Decoder can stump you!
One politician who signed the pledge way back in 1987 and still gets pretty steamed over it is former president George H. W. Bush.
Running for the presidency a year later he made perhaps his most famous pronouncement: "Read my lips: No new taxes" – a pledge he broke in compromising with congressional Democrats. Four years later, "Read my lips" came back to haunt him when he lost his re-election bid to Bill Clinton.
---