How GOP could be forced to raise taxes this December
Twenty leading congressional conservatives are imploring GOP leaders to head off any Democratic attempt to use the threat of a government shutdown to force Republicans to accept tax hikes.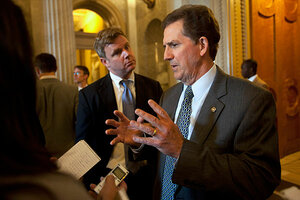 Jacquelyn Martin/AP
Some of Capitol Hill's most conservative Republicans have a message for their party's leadership: Don't get trapped into a tax hike.
"We fear that without immediate, decisive action in the House of Representatives, the American people could soon find themselves in a perfect fiscal storm: a lame duck session of Congress with the looming threat of a government shutdown creating an unnecessary crisis for the purpose of forcing through tax and spending increases," reads a letter, sent to sent to House Speaker John Boehner (R) of Ohio and Senate minority leader Mitch McConnell (R) of Kentucky, from 20 Republicans split roughly between the two houses.
How could the GOP get trapped into a tax hike? If Republicans keep on the current path, they argue, that's very well where they could be headed.
The federal fiscal year ends on Sept. 30. So come this September, Congress is going to have to fund the government by continuing resolutions, or "CRs," that roll funding for all government programs into a single massive bill. (Because of election-year politics, the chances of Congress actually passing a budget before Sept. 30 are virtually nil.)
---